Our mission
- a school of small fish supplying the big fish –
Davis is an international fresh produce company that imports and exports fruit and vegetables from and to all over the world. If a German customer needs blood oranges, we know exactly which orange grower in, for example, South America offers this fruit. We then import these oranges from South America and export them back to Germany. We hear the demand and see the supply and connect them. Think of it this way: we work like a school of small fish supplying the big fish.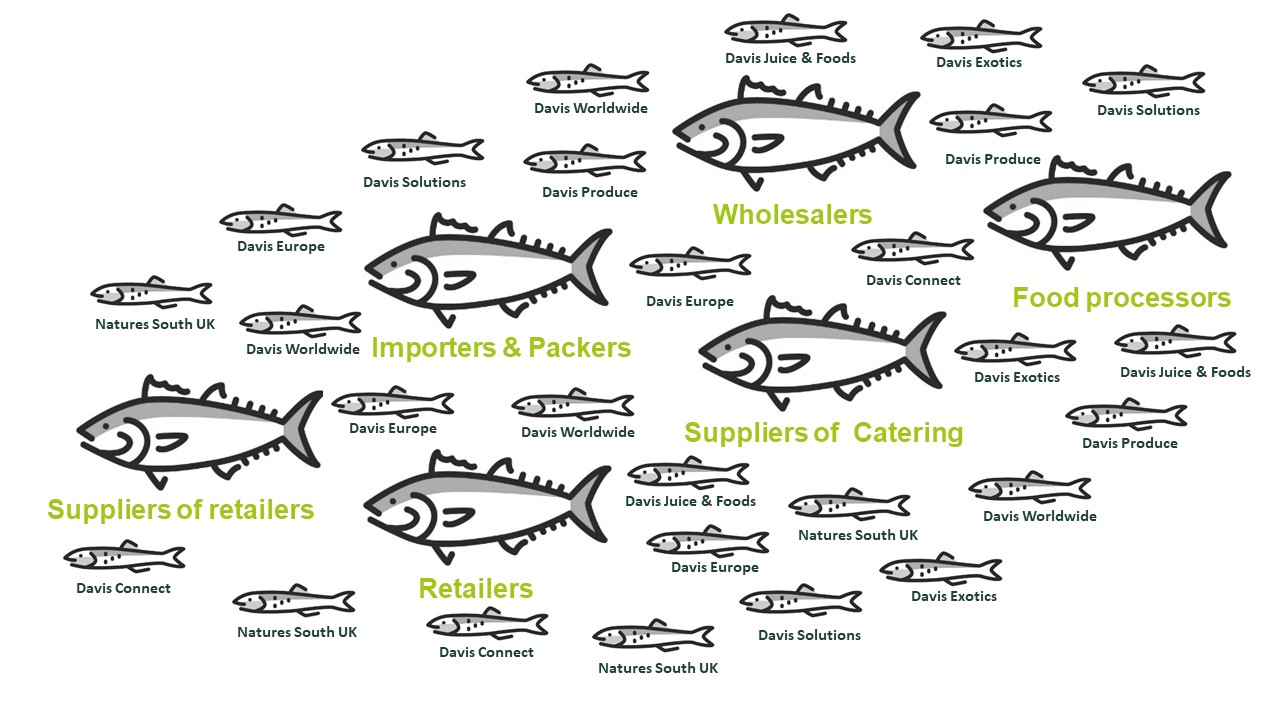 We work with a small team to provide large and small international customers with the best fresh produce. Our customers trust us to be their eyes and ears in the industry.

At Davis, being people-minded is paramount. The personal way in which we do business and deal with customers and employees is in our DNA. Quite literally, because we are a family business and family values are not only found in the company, but also in our way of doing business. Human values such as mutual respect, reliability and correctness are very important at Davis. Doing business with integrity is our distinguishing factor.

In the constantly fluctuating and dynamic world of fresh produce, it is precisely these family values that keep Davis stable and strong. CEO Edward Koemans: "Of course we need to be a healthy company and make a profit. But profit is not the highest goal. We want just as much that our staff is well taken care of, that they can develop themselves in the company, but also the world. We would rather have less profit if it means we have happy employees. We must treat others as we would like to be treated ourselves."

And of course, Davis also stands for quality and exclusive products. Our products undergo strict selection and we are only satisfied when the customer is satisfied. Davis guarantees good price ratios and product lines, and we have the right knowledge and know-how. We have respect for our customers, for the product, but also for the different cultures we come into contact with.

In short, Davis is an inspired partner in fresh produce with love and passion for the industry. We believe in the personal approach and value the customer and the product. It is our ambition to serve even more companies in different countries and to make a difference in this industry with our high-quality service.

Our mission is, therefore: to supply a wide variety of fresh produce internationally and thereby make our contribution to a healthy diet and lifestyle in our personal Davis way.
Our Vision
- The management team behind the top athlete -

Our vision is to expand our network worldwide. With several sales desks and dedicated commercial managers, we want to be able to facilitate all branches of the industry. Our core business is currently focused on European markets, but the first steps have already been taken to serve the emerging markets in Asia and India.

Davis wants to be the facilitator of fruit and vegetables all over the world. We see our customers as top athletes who provide people all over the world with good and healthy food. We are the management team that ensures that our customers are top performers in this. We will continue to do so in the personal Davis way that makes us unique and successful in the industry.